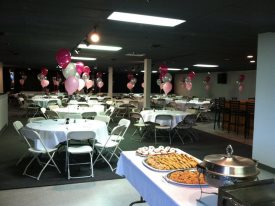 BBQ BUFFET*
$18.00 per person. Includes 2 meats (8 oz meat per guest), buns, BBQ sauce and 2 sides      
Meats (pick 2):
Beef Brisket
Pulled Pork
Pork Loin
Pulled Chicken
Sides (pick 2)
Cole Slaw
Bake Beans
Potato Chips
Potato Salad
Taco Buffet*
$12 per person. Includes 3 tacos (hard, soft shell, or both), seasoned ground beef, cheese, lettuce, sour cream, salsa, tomato and onion. Additonal Tacos are $2 each
Sloppy Joe Buffet*
$11 per person. Includes 6 ounces of meat, buns, potato chips and pickles.
THE TAILGATE (GRILL OUT)*
$14.00 per person. Includes 2 sandwiches per guest and 2 side dishes. Sandwiches served with buns, and condiments (ketchup, mustard, lettuce, pickles, tomatoes, onion, American cheese, and sauerkraut). Additional sandwiches $3.00. each.
Sandwich Choices:
Hamburger
Chicken Breast
Bratwurst
Jumbo Hot Dog
Side Dish Choices:
Potato Chips
Potato Salad
Pasta Salad
Cole Slaw
Baked Beans
*Minimum of 50 buffets required for the listed prices. Buffet served on paper products. Pricing includes gratuity. Price does not include state sales tax.